Grange Drama is based in the town of Grange over Sands, in the county of Cumbria, England. (If you want to know exactly where we are on the map, then have a look at our "Find Us" page.)
The society has been going since the 1940s. The exact date has been lost in the mists of time. We are a friendly group, always ready to welcome new members.
If you would like to find out more about us and our forthcoming productions, or if you want to find out how to join us, then it's all here on this site - or, if you prefer, you can email us.
---
Drama Activities
Each year, we stage two full-length plays - in early summer (June) and in the autumn (Oct). These run for three nights, from Thursday to Saturday inclusive with a matine&eacute in October. We rehearse usually twice a week for about eight to ten weeks.
We sometimes enter the one act festivals. Indeed, we entered the All England festival in 2009 with 'Five Kinds of Silence'.
We also take plays to other venues.
This programme is liberally interspersed with regular play readings and at least one or two rehearsed readings.


Social Activities
In addition to the usual post-production parties, Grange Drama members enjoy social activities. In January, there is the annual lunch and during the year several other events, such as theatre trips, are organised by members of the Committee.
---
How we are organised
Grange Drama is run by a committee, elected at the Annual General Meeting, which must be held within two months of the financial year end (30th April). In practice this is usually during the last week in May.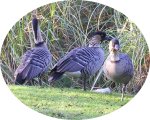 "This isn't the Grange page."

The Executive Committee
The Executive Committee looks after the general administration of the society's affairs and finances. It consists of the President, Chairman, Secretary, Treasurer and up to nine ordinary members. All posts are honorary. Additional members may be co-opted as required. The Executive Committee meets monthly. The officers of the Executive Committee for 2015/2016 are:
Chairman: Vacant. Meetings currently chaired by Jim Robson
Secretary: Deborah Powell
Treasurer: Bob Somerset
The ordinary members are: Florence Robson, Hilary Stubbs, Margaret McDonagh, Kathryn Kay, Tanya Shaw and Jim Robson.
The Rules
The full rules of the society are set out in a booklet, copies of which may be obtained from the hon. secretary.
---
Any suggestions?
If any of you have any constructive suggestions - e.g. additional contents, or even a total redesign of the whole site, I would love to hear from you. I'm sure you all know where to find me! If not, you can always e-mail me.(JimR)


---
... and Finally
The AGM was held in June 2021 at which time subscriptions became due for 2021/2022. They are £10 per annum for adult members and £1 for students and children. Our treasurer is Bob Somerset.
---
Home | Coming Soon | Find Us | Join Us
Shows | Library | About Us | Grange